Misty Blanco is widely known as a trendsetter, an innovator of music, fashion and reality tv. Misty Blanco created her own genre of music called "Melodic Bop", February 6th, 2022.
Misty Blanco the Blaquanese Rockstar has become one of the most entertaining artist in the music business, wether she shows up with herself and her team scatting her rhythms down the NY streets, to her popping up with her samara hat looking like a female version of Raven from Mortal Kombat, or her entering into a meeting with her bestie holding her umbrella looking like a wealthy family from the 1800's.
If it's one thing we can be sure of is you will be entertained by the theatrical artist "Misty Blanco". During recent times Misty Blanco has introduced her audience to the "Mobile Billboard Bags called, M.B.B". Misty Blanco had an interview April 28th, 2023 with journalists and podcast host "Matty Ice", in Las Vegas, where she was spotted with what looked like a Digital Billboard on her back.
The display on her back pack had digital ads of her company and new projects along with the ad displaying about Rick Ross car show 2023 featuring "Lil Wayne". During her interview with Matty Ice Misty Blanco spoke about a new wave coming she created called "The Nerdy Gang", and how they are introducing the new era of technology, fashion, art, sports, entertainment, music and promotions and branding in the world today. The new wave as is all hand and hand with her new genre of music called "Melodic Bop".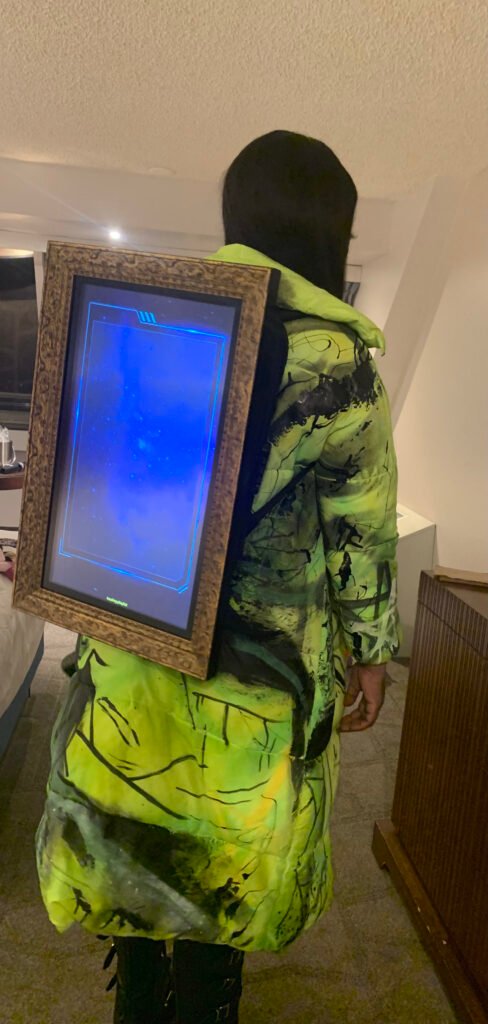 "The Mobile Billboard Bag, M.B.B" is for all entrepreneurs or huge corporations who want to invest in the new wave of marketing and exposure with their companies," stated Misty Blanco on the interview with Matty Ice, April 28th, 2023.
She also expressed the importance of everyone understanding the new era of technology in music and to evolve into the future. She spoke of having her own coin called "BLAQ", and her NFT will be coming soon. Misty Blanco stated how understanding technology in the entertainment business will only birth a new kingdom of artist and entertainers.
Misty Blanco also spoke of one day having a virtual tour on virtual googles and it looks like she's going to be acquiring her goal very soon. Misty Blanco introduced her idea of having a world tour through virtual reality in 2021 with VIP.Live. Now in 2023 she's looking to be launch this tour very soon, and her fans are on the edge of their seats for this to happen.
Misty Blanco feels instead of not understanding future technology and the A.I movement, she feels it's a must to learn the movement and create new avenues of success for the future entrepreneur, artist, fashion designer, athlete along with big and small corporations.
She express why everyone who is in business for themselves they should invest in the "M.B.B" so people can evolve into a brighter future of promotion and branding. Misty Blanco will be having a seminar soon introducing the "M.B.B Bags", during this seminar those who want a bag will be able to purchase during the seminar. Dates for the seminar will be coming soon.
For publicity inquiries about Misty Blanco please contact The Misty TV Firm Corporation via email: themistytvfirm@yahoo.com or Instagram IG: @themistytv
Misty Blanco Instagram IG: @mysterious_mistyblanco