Actors Ryan Reynolds and Michael B. Jordan bought a stake in Alpine. Brad Pitt is making a movie with Lewis Hamilton. And Netflix's "Drive to Survive" continues to pull in viewers.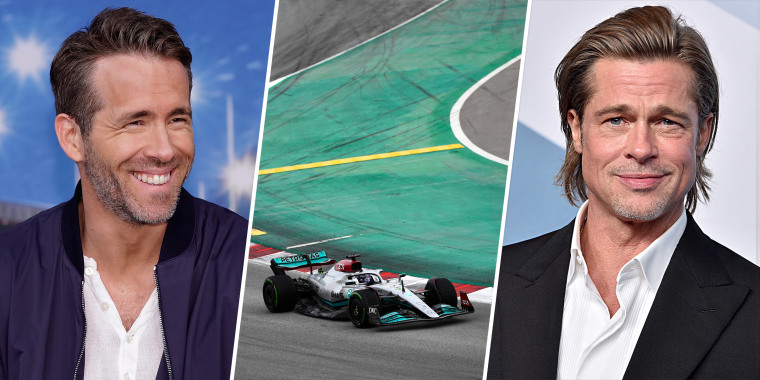 Ryan Reynolds, Lewis Hamilton and Brad Pitt. Han Myung-Gu / Rudy Carezzevoli / Gregg DeGuire / WireImage /
The world of Formula One is abuzz with the news that Hollywood actors Ryan Reynolds, Rob McElhenney and Michael B. Jordan are leading an eye-popping $218 million investment in the Alpine F1 Team.
The move by the American actors is somewhat surprising. Alpine is a French team led by two French drivers, Esteban Ocon and Pierre Gasly, and it is hardly a household name in the U.S. But the decision to lend money and star power to the cause represents a vote of confidence among the Hollywood luminaries in the future of Formula One and the vast potential of the American market.
It adds to the growing ties between Formula One and the U.S. film industry, painting a brighter future for the sport through its penetration into American popular culture. Brad Pitt is starring in a Formula One-themed movie he's making with Mercedes driver Lewis Hamilton, a seven-time world champion. And Netflix's "Drive to Survive," which is fueling American interest in the sport, has been confirmed for a sixth season.
"What they're thinking is that it's mutually beneficial. When these different areas of media reflect on one another, it's going to have crossover and bring fans from one into the other," said Grant Wiedenfeld, an associate professor of media and culture at Sam Houston State University in Texas and the author of the 2022 book "Hollywood Sports Movies and the American Dream."
"Maybe there's some aspect to the business, but I don't think it's [Reynolds'] accountant telling him to go invest in this. It's this crazy idea of 'Wow, this is an interesting scene to be involved in,'" Wiedenfeld said. "There's a sense of adventure to it. … It's unexpected, and that's what makes it exciting for him and the public to follow along with it."
With a record three American races on the calendar, as well as an American team in Haas F1 and an American driver in Logan Sargeant, the seeds of future growth are planted. But U.S. viewership still trails that of NASCAR and other sports, like pro football.
"We've seen a major increase on social media with Formula One in the last year. It has an appeal that's different from NASCAR or IndyCar, the domestic leagues — probably because of its diversity, the diverse location of drivers and races," Wiedenfeld said. "I'd be surprised if it can knock NASCAR off its perch, but I think it's definitely going to have a foothold."
The Reynolds-led firm Maximum Effort Investments said it's focused on "unlocking value through the power of storytelling, and we believe there is tremendous untapped potential in Alpine Racing."
Reynolds needed no introduction to Alpine's stars.
"I must say I'm personally a fan of him and his work!" Gasly told reporters Thursday ahead of this weekend's Austrian Grand Prix. "He's definitely one of my favorite actors. And yeah, definitely super excited to meet him at some point during the season."
Gasly said the U.S. investors and the firms they're fronting will help "to expand, to improve" on the vision of the Alpine team.
"They got really good expertise in also other sports — NFL, NHL, in football, in many other disciplines — that we'll be trying to use as much as we can to improve our strength," he said.