Dave Coulier is watching Full House for the first time — and it's a bittersweet journey.
On Friday, the 63-year-old launches the appropriately titled Full House Rewind podcast where the actor, who played Joey Gladstone on the sitcom, gives fans behind-the-scenes scoop on all 192 episodes. In an interview with Yahoo Entertainment promoting the PodCo series, Coulier opens up about where his relationship with the cast stands today, his reaction to recent Candace Cameron Bure–Miss Benny drama and his dear friend and co-star, Bob Saget.
"I never watched Full House," Coulier reveals — but there's a reason why he's ready to change that. "I think the world is not a simple happy place anymore, and I think people yearn for that."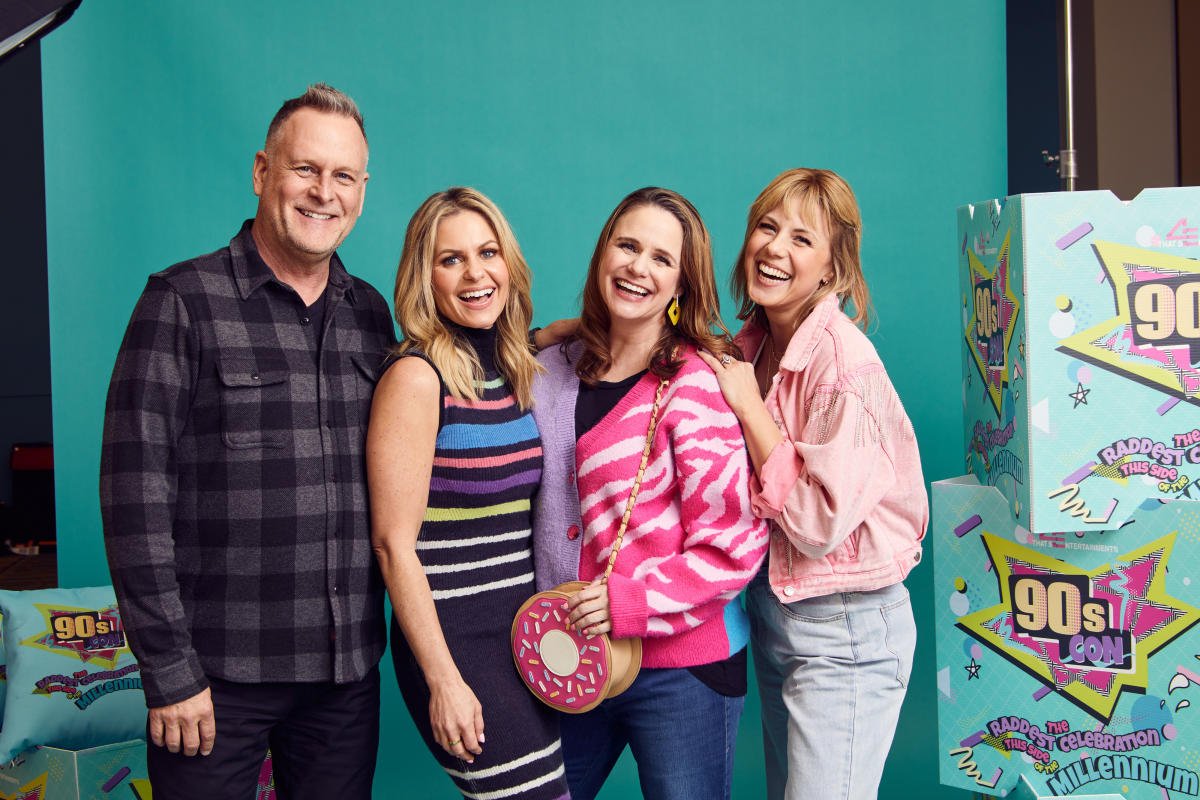 The comedian continues, "I really wanted to do an homage to the fans who have told us over the years how much they love Full House and how much it meant to them, and in a lot of cases, how it not only shaped their childhood, but improved their childhood. So I really wanted to give back by going over all of these episodes again and just kind of share that with the fans… it's a trip back down memory lane for me because a lot of this stuff is brand new."
Full House and the Netflix spin-off Fuller House, which ran from 2016 to 2020, starred Saget (Danny Tanner), John Stamos (Jesse Katsopolis), Lori Loughlin (Becky Katsopolis), Jodie Sweetin (Stephanie Tanner), Bure (D.J. Tanner) and Andrea Barber (Kimmy Gibbler). (Mary-Kate and Ashley Olsen, who had the shared duty of playing Michelle Tanner, didn't sign up for the reboot.) The show is still adored by fans and Coulier believes the secret sauce, so to speak, is the cast's "genuine" close relationship with each other.
"I think people could feel that we really loved each other and still do. You can't fake that. That's really hard to manufacture," he shares.
"We text on someone's birthday, we say congratulations for things, we ask each other for help," Coulier continues. "It's really a wonderful family. I don't think any of us in the very beginning expected that to happen for the rest of our lives. So I keep in touch with everybody. Lori is my best girlfriend."
The series was recently in the news as transgender actress Miss Benny, who guest starred as "Casey" on Fuller House, insinuated Bure wanted her queer character removed from the show. Bure has made waves for anti-LGBTQ comments in the past; however, she strongly denied Miss Benny's allegations in a statement to Yahoo. Coulier actually directed Miss Benny in an episode titled "The Prom," which was nominated for a GLAAD Award in 2019.
"It was really nice to have that happen, for people to be recognized, for that episode to be recognized. We were always a show that was very inclusive and we tackled a lot of subjects that sitcoms really traditionally didn't talk about, you know, like drugs and alcohol with kids, growing up and all of the things that can happen along the journey of adolescence," Coulier explains. He declines to comment on the allegations in Miss Benny's viral TikTok, but offers high praise, overall, of Bure's leadership on set of the revival.
"Candace was kind of the driving force of Fuller House. She was a producer and she was kind of the leader of the wolf pack with the girls and I thought she was tremendous," he says. "I was so proud of those girls."
Coulier says he's "always been Switzerland" in their Full House family.
"Everybody kind of tells me, 'Oh, here's what she said.' But we're like a family, you know? We bicker, we argue, we call people out on their stuff. We have problems with each other, but at the end of the day, we love each other and we kind work through it," he adds. "I mean, we've been through pickups, cancellations, births, deaths, marriages, divorces — the stuff that any family goes through."
One of the toughest times for cast and crew came last year. In Jan. 2022, Saget died unexpectedly after accidentally hitting his head alone in an Orlando hotel room.
"It's hard," Coulier says of life without Saget. "It's still really hard. Bob and I met when we were both struggling comics, I was only 18 years old."
The actors first connected in Detroit when Saget was in town performing at a small club. Coulier remembers that Saget "blew the room away."
"I just couldn't take my eyes off of him, and I thought, that's how good I want to be. He was so impressive, so funny, so witty and polished," Coulier recalls. That night, Saget gave Coulier his number and said to reach out should the comic land in L.A. "I still have the piece of paper with his number on it that he jotted down that night. It's in a scrapbook."
Coulier ultimately went to California and ended up crashing at Saget's place. They were both cast in Full House, which ran from 1987 to 1995 on ABC. "It was weird how art imitated life when I moved into Danny Tanner's house and sleep in the alcove," he laughs.
"There's so many bits that I had with Bob that I could only do with him because of our relationship since we were really young," Coulier shares. "Hardly a week goes by where I'm not driving in my truck and I think, 'Oh, that's funny. I gotta — oh, I can't.' I can't call him and just start singing, you know, in a falsetto voice, some silly song."
The first episode of Full House Rewind with David Coulier is dedicated to Saget. The series features cameos from some familiar faces in the Full House world. Stamos is slated to appear as is creator, Jeff Franklin, and guest stars, Josh Peck and Marla Sokoloff.
"It's more of a TV show than a podcast, it's very visual," Couiler teases. He hopes fans are left feeling happy after watching his podcast. "For me to be able to create this world within the world of Full House has been so much fun."